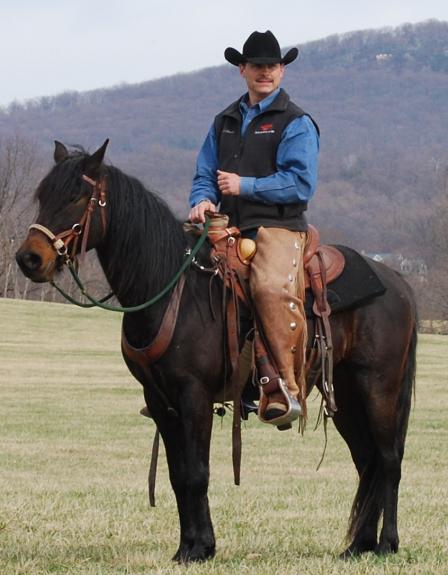 David T. Beard: A Lifetime with Horses
I was six years old when I got Jackie ( 10 year old Shetland pony ) and growing up in Jonesboro Arkansas . My dad would tell me to kick like heck to get her going and pull like heck to stop her , but ol Jackie had my number and she threw me just about every time I rode her , which was just about every day . My dad would laugh and say "get back up son" and my mom would worry and was always right there to dust me off and I swear , not much has changed . My mom still worries and my dad still gets a kick out of a western ride . Seeing Jackie's belly button ( or any horses ) is never a good thing , that's for sure, but I wouldn't trade those memories for anything .
Nowadays its easy for me to look back and realise the mistakes I made with Jackie .She was trying her best to tell me that the rough handling , kicking and pulling just wasn't rewarding for either of us ... somehow I knew all a long that there must be a better way , even as a yonker.
I met Craig Cameron at his ranch in Bluff Dale Texas in the late 90s . Craig had been practicing gentle horsemanship with great horseman such as Ray Hunt , Tom and Bill Dorrance and many others . Year after year after year I would head to Bluff dale Texas every chance I got to gain as much understanding about the horse as I could . Eventually I bought my own ranch in Granbury Texas and that opened up many of opportunities to train with some really great cowboys like Craig Cameron , Ty Murray . The experience has been incredible , what a ride and I am so proud to be in that "bloodline"...but I swear , the best teacher that I have found anywhere has been the horse . I believe that the art of horsemanship is never "mastered" and that learning that art is a lifelong endeavor . Like my good friend Craig would say " the minute you think you know all there is to know about training horses , then that is the minute that you stopped learning and when you have stopped learning then you will never get any better than you are at that very moment '. The older I get the more truth I find in those words of Craig.
I truly grew up dreaming of being a Cowboy and I am so fortunate to be able to live out that dream at the Sevens Boarding and Training Facilty . We work hard to turn out quality horse training at the Sevens and we let our horses do the talking for us.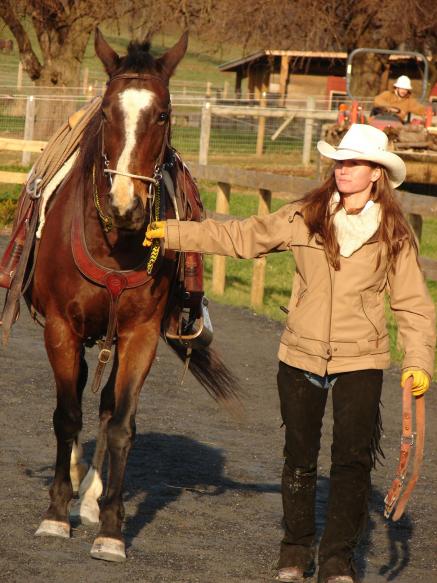 Brooke Bierman-Vrany: A Passion for Horses
I've been in love with horses since the first day I laid my eyes upon them! I was the little girl who collected "My Pretty Ponies" and then "Briar Horses" and eventually talked my parents into buying my sister and I a REAL horse. I never had a choice as to whether horses were going to be a part of my life, I was born "Horse Crazy". They're en-grained in my heart, a part of who I am.
Life has taught me many lessons, some hard and some easy, regardless though, the world of the horse has always been my grounding pole. Twelve years ago I grew up, (ha ha), and entered into a career path-better known as "main stream America". No surprises……my path was that of the horse. I got my Certified Horseman Association certification and started teaching lessons. Later, I started working for Day's End Farm Horse Rescue…..this is really where my life with horses took meaning. It gave me the opportunity to learn equine care and love above anything I'd ever experienced, forget about what horses can do for us, I learned what "I" could do for the horses. Thus began my journey of education, endless hours at the farm and equine husbandry and management. I've been blessed and have had the opportunity to work with some of the best vets and farriers nationally and on occasion, internationally. Over the years I've participated in numerous lectures, conferences, and classes……but in the end I'd have to say that it's always been the horse that has taught me the most. Being able to nurse a horse from the brink of death to the day they're frisky and free-stepping is an experience that no textbook can capture, it's a lesson of the heart. Above all, what the horses themselves have taught me is that they need "us", people, to care for and love them, to teach and promote them.
My dedication to the horses is strong, I often see myself as their servant. The lady who brings hay and grain and goodies on occasion. I don't think that I could ever have a horse in my barn that has a need and not take care of it. Consequently, I went from an avid rider to an avid "care taker", lol, traveling the nation teaching and instructing instead of riding and showing. Selfishly, I'm a barrel racer and a trail rider …………. But who has time for that!